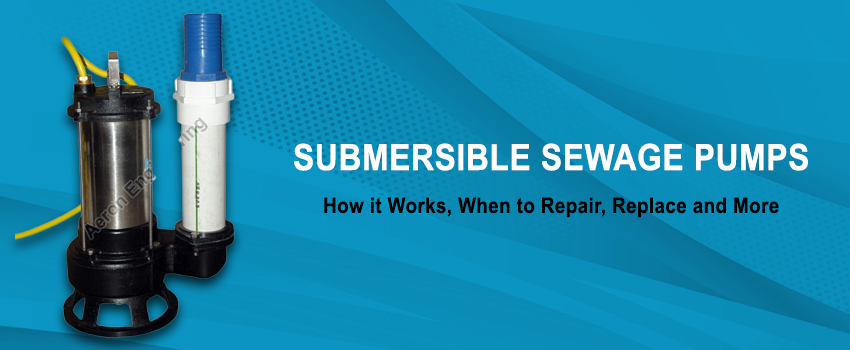 Submersible sewage pumps are in vast demand or sewage solids and liquids transfer from one point to another. Submersible sewage pumps across the residential applications pump 2" diameter worth of soft solids from the sewage basin to a septic tank. The submersible sewage pump manufacturer offers sewage pumps in different types including dual mode, manual mode and automatic mode.
How Do Submersible Sewage Pumps Work?
Submersible sewage pumps refer to specially designed centrifugal pumps which enable the passing of solids without requiring the pumps to clog. The motor begins to rotate the impeller once the pump is turned on. The starting of the motor creates pressure to push the water inside the impeller and move them out into the discharge pipe.
How are Submersible Sewage Pumps Beneficial?
Submersible sewage pumps are designed to eliminate the build-up of water from crawlspaces and basements and deposit it safely through the house's water system. The sump pump operation is simple and here are some of the benefits of installing them.
Keeps Flooding Damage at Bay
Flood-triggering incessant heavy rains can cover the basement floor with water and damage everything it has. Upon flooding, about 15 inches of water covers the floor and is devastating for the owners. However, the only way of getting rid of such problems is to get a fully-working sump pump from a reputable submersible sewage pump manufacturer.
No Chances of Mildew and Mold
Constant dampness in your basement from stagnant pools of water can promote mildew and mold growth. Apart from being damaging, mold and mildew growth can ruin the structural integrity of building materials. Furthermore, they can trigger health concerns as well.
Minimize the Possibility of Fire
Flooded water can make basement appliances undergo short-circuits. Some of the appliances that can develop short circuits are heating systems, water heaters and laundry machines. So besides damaging expensive appliances, water can also result in fire hazards. Sump pumps will prevent the water from the equipment to trigger all kinds of household fire breakouts.
Warning Signs That You Need to Replace/Repair Your Submersible Sewage Pumps
Remember, there are no submersible sewage pumps that last an eternity. The key is to constantly learn about the warning signs of a potential pump failure. This way you can know when something isn't right and can get professional repair services done.
You Have to Encounter Dirty Water
To begin with, one of the major signs that you need to call for sump pump replacement or repair is that you are constantly dealing with filthy water. The primary reason to have a pump is to filter clear and clean water into your operations regularly. If you are getting dirty water instead, it can hurt your business operations.
Your Pump is Having Issues Start
Your routine operations count on a good-performing pump. If your pump refuses to start or displays problems, then you might have to pay attention. There are various reasons you might have to struggle to start your pump. It can be a technical glitch or even a blown fuse. Rather than assuming things and risking your business and its workers, try sorting the problem out through a professional.
As submersible sewage pumps are safe to use, they can be used around homes as well. Besides, they don't make a noise and that is a major relief. Furthermore, the submersible pumps are extremely portable and lightweight, so you need not worry about moving them from one place to another.